Graduate Student Fellows & Teachers
Fellows
Emily Bock
Anthropology, Dissertation Fellow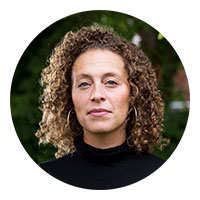 Emily R. Bock is a PhD candidate in the Department of Anthropology at the University of Chicago whose research is situated at the intersection of critical race theory, black studies, queer theory, performance studies, and ethnographic methods/writing. Her dissertation, Ordinary Queens: the ball, the streets, and the beyond of survival, is an ethnographic investigation of the everyday lives of members of the underground ballroom scene in Chicago and New York which tracks the diverse aesthetic and performative practices this community has developed for imagining, performing, and securing the "good life." Following members as they move between community centers, coffee shops, workshops and balls, Ordinary Queens argues that the performative practices one develops in the ballroom scene might be thought of as strategies for answering the question of "how ought we live" (in a way that is distinctly black and decidedly queer) and thus can be understood as pushing beyond notions of survival or repair.
The Chicago native holds a BA in Anthropology and Dance from Barnard College and an MA in Anthropology from the University of Chicago. Additional areas of interest include theories of the ordinary and everyday, gender and sexuality studies, media studies, and critical theory.
K.A. Hendricks
Sociology, Dissertation Fellow
K.A. Hendricks is a PhD candidate in the Department of Sociology whose research focuses on law, legality, higher education, and social movements. Her dissertation work is located around the changing cultural landscape regarding free speech, Title IX, and resource allocation in university settings. Other research interests include embodiment and risk taking, sports and leisure, narrative media, and mixed qualitative and quantitative methods. She served as the BA Preceptor for the Center from 2016 to 2019 and is the co-mentor of the Student Arts Collective.
She completed her undergraduate education at the University of Michigan – Ann Arbor in Sociology and Anthropology and her MA in Sociology at the University of Chicago. Originally from Michigan, in her spare time she volunteers, embroiders, plays music, and explores the larger Great Lakes Basin.
Ray Noll
Political Science and Anthropology, CSRPC-CSGS Dissertation Fellow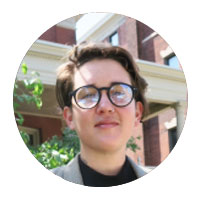 Ray is a joint PhD candidate in Political Science and Anthropology. Ray holds an MA in Political Science from the University of Chicago, an MA in Social Service Administration from the University of Chicago, and a BA in Women's Studies from the University of California Los Angeles (UCLA).
Ray Noll's general research interests include critical race theory, gender and sexuality, queer theory, contemporary political theory, punishment and critical prison studies, and ethnographic methods. Ray's dissertation is an ethnographic exploration of the Cook County Jail (CCJ), nearing a decade of preliminary fieldwork conducted on specific programming for LGBTQ individuals incarcerated in Chicago, Illinois. The dissertation utilizes long-term ethnographic data with those formerly incarcerated at CCJ in conversation with political theory and attends to broader shifts in techniques of policing and punishment within contemporary imaginations of governmentality, political participation, insurgency, and freedom.
Annie Heffernan
Political Science, Residential Fellow
Annie Heffernan is a Ph.D. candidate in the Department of Political Science at the University of Chicago and a dissertation fellow at the Pozen Family Center for Human Rights. Her work engages with broader questions of inclusion and social change, with a particular emphasis on the role of disability in defining the contours of political membership. Annie's dissertation, "Disability: A Democratic Dilemma," brings into view the significance of disability in mediating the relationship between citizens and the American state. Drawing upon historical and contemporary examples—among them the rise of waged labor, the Flint, Michigan water crisis, the healthcare debate, and, most recently, the proposed expansion of public charge requirements in U.S. immigration law—she shows how the boundaries and defining features of political membership are stabilized and recast in and through disability. Where existing research emphasizes the exclusionary ground of liberal citizenship and its consequences for people with disabilities, she argues that disability as a concept, legal category, and medical condition has become a crucial mechanism through which to negotiate the obligations and entitlements of citizenship.

During her time at the University of Chicago, Annie has taught in the Social Sciences Core, the Political Science Department, and Gender and Sexuality Studies. She holds an MA in the Social Sciences from the University of Chicago (2012) and an AB in Social Studies from Harvard College (2009). Since 2014, Annie has served as the coordinator of the Gender and Sexuality Studies Workshop. More information can be found at www.annheffernan.com.
Jane Hereth
Social Service Administration, Residential Fellow
Jane Hereth (she/her) is a doctoral candidate at the University of Chicago School of Social Service Administration (SSA) whose research focuses on the intersections of gender-based violence, structural marginalization, and criminal legal system involvement among lesbian, gay, bisexual, transgender, queer, intersex, and asexual (LGBTQIA+) young people of color. Jane will defend her dissertation, "Disrupting criminal legal system involvement among young transgender women: A mixed-methods study examining the role of gender-based violence, discrimination, and social support," during the 2019-2020 academic year. While young transgender women experience higher arrest and incarceration rates than their cisgender peers, little research has identified the different factors that shape their interactions with the criminal legal system. To address these gaps, Jane conducted a two-phase mixed-methods study designed to explore pathways into the criminal legal system and potential points of intervention. Jane's dissertation findings illustrate the ways in which gender-based violence, racism, and state violence intersect in the lives of young transgender women, and point to a need for multi-level interventions that target social service systems. In addition, Jane's research uplifts young transgender women's strategies of resilience and resistance in the face of state violence.
At SSA, Jane teaches courses on clinical social work practice and queer theory. Her research and teaching is informed by over ten years of practice experience, policy advocacy, and community service among survivors of sexual violence, people involved in the criminal legal system, and LGBTQIA+ youth and young adults. Jane volunteers with Love & Protect, a grassroots collective that supports women and gender non-binary individuals who have been criminalized for defending themselves, and the Transformative Justice Law Project's Name Change Mobilization, which offers support to transgender and gender non-binary individuals as they navigate the legal name change process. For more information, please visit www.janehereth.com.
Eva Pensis
Music and Theatre and Performance Studies, Residential Fellow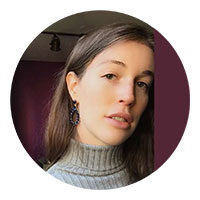 Eva is a joint PhD student in the Department of Music and Theatre and Performance Studies (TAPS). Eva's work concerns the spaces between nightlife performance, survival economies (sex work and hustling), and the eroticization of violence in everyday life. She's interested in performances of femininity—on the stage and in the street—across the 20th and 21st centuries, attending to how disreputable (read: sexualized) femininities (trans, Black, fat, poor, street, and 'freak' femininities) get produced within the public sphere as well as the numerous ways women and femmes considered disreputable rework this stigma to use the erotic as a ground for self-fashioning.
Eva is a drag performer, Southwest showgirl and TS conjurer, who performs under the name APoliticalGirl. She holds a Masters in Music from University of Chicago and a BM in piano performance from the University of Southern California.
Rose Owen
Political Science, Residential Fellow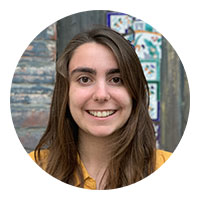 Rose Owen is a PhD student in the Department of Political Science specializing in feminist political theory. Rose's work brings together democratic political theory, aesthetics, and ordinary language philosophy to engage with 20th century feminist thought. Her dissertation, Cultivating Solidarity against Tyranny: Virginia Woolf, Simone de Beauvoir, and Alice Walker on the Politics of Feminist Literature, argues that the genre distinction between literature and theory perpetuates the exclusion of women and people of color from the political theory canon. Starting with Woolf's diagnosis of the link between patriarchal violence and the rise of fascism, the project then turns to Beauvoir's concept of solidarity, and Walker's exploration of gardening, to theorize a democratic feminist politics. Each thinker contends that an alternate way of reading is necessary to see the forms of intimate violence that prevent women from entering the public realm and acting politically. This project is supervised by Linda Zerilli (chair), Demetra Kasimis, Adom Getachew, and Toril Moi (Duke).
Rose holds an MA in Political Science from the University of Chicago and a BA from Wellesley College. Her Master's Thesis, "The Birth of Tragedy as the Death of Politics: 'Gender Trouble' and the Founding of Democratic Publics in Euripides' Bacchae," won the Joseph Cropsey prize for best Master's Thesis in Political Theory. This year, Rose is also coordinating the Political Theory Workshop and teaching in the Classics of Social and Political Thought core sequence.
Agatha Slupek
Political Science, BA Preceptor and Residential Fellow
Agatha A Slupek is a doctoral student in Political Science specializing in political theory and comparative politics. Her primary research interests are in feminist theory, 20th century continental thought, and political economy. Agatha draws on conceptual resources from the traditions of Marxism and psychoanalysis, which she argues help us to strengthen the critique of new forms of domination taking shape in advanced industrial societies. Her Master's Thesis, titled "Beyond the Fragments: Feminism, Work, and Freedom", was awarded the Joseph Cropsey prize for best Master's Thesis in Political Philosophy. Her additional research interests include: theories of affect and emotion, the politics of theater, and contemporary receptions of Greek tragedy.

She holds an MA from the University of Chicago and a BA in Philosophy from McGill University, in her hometown of Montréal, Canada. As of 2018, Agatha will co-coordinate the Gender and Sexuality Studies Working Group, as well as the inaugural History and Social Science Forum. She also has a black cat named Lexie, who is perfect.
Alyssa Smith
History, Residential Fellow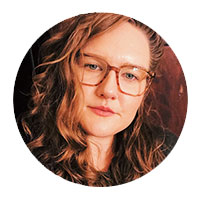 Alyssa Smith is a doctoral candidate in the History Department. She is a cultural and social historian of the twentieth-century United States whose research focuses on the histories of violence, emotion, and visual culture.
Her dissertation, "The Strangers Beside Us: A History of Fear, Fascination, and Spectacle Murder in Late Twentieth-Century America," asks how sensational murder cases changed American life during the 1970s, '80s, and '90s. This interdisciplinary project speaks to existing scholarship on policing and incarceration, criminology, political conservatism, race and gender theory, media studies, and popular culture. She argues that contemporary narratives and images of murder created gendered and racialized assumptions about victims and perpetrators of violent crime and led white suburbanites to reshape their local and national environments to produce a sense of security in a disorderly world. Ultimately, her dissertation illustrates the significance of this lived fear of violence to a number of definitive shifts in social life, policy, and cultural thought that continue to structure the daily lives of many Americans.
Alyssa earned her B.A. in history from the University of Maryland in 2013 and her M.A. in history from the University of Chicago in 2016. During her time at the University of Chicago, she has coordinated the U.S. History Workshop, served as a representative for the History Graduate Student Association, and taught courses in U.S. history and the history of violence. She is now researching and writing her dissertation with generous support from the Mellon Foundation's Hanna Holburn Gray Fellowship for the 2019-2021 academic years.
Alexander Wolfson
Divinity, Residential Fellow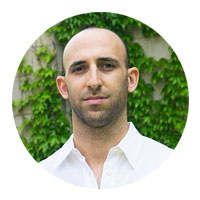 Alexander Wolfson is a PhD Candidate in the Philosophy of Religions with specialization in Sexuality and Gender Studies. His areas of focus are trans studies, feminist and queer theory, contemporary continental philosophy, critical race theory, and the philosophy of science/information studies. He came to Chicago after an MA in Social and Political Thought from York University, and a BA in Theatre and Visual Art from the University of Toronto.
His dissertation, entitled Force and Stabilization: 'Transsexuality' in 20th Century Critical Thought interrogates the representation of transsexuality and non-binary gender identities in 20th Century psychoanalysis, continental philosophy, and philosophies of science. It shows how philosophers, analysts, and scientists of the late 20th century navigated emerging discourses concerning gender and sexual difference, arguing that transsexuality's role as productive of contemporary concepts of sex and gender is at the core of modern thought.
This is Alexander's second year as a Residential Fellow at the Center for the Study of Gender and Sexuality, where he has taught numerous classes. This autumn he is teaching a new seminar called "Cybernetics and Trans Identities" and in the winter he is co-teaching the graduate seminar "Advanced Theories of Gender and Sexuality."
Alexander is also a practising artist and writer. More information and documentation of his work can be found at www.alexanderwolfson.net.