About the Center
The Center for the Study of Gender and Sexuality at the University of Chicago was established in 1996, after a decade of faculty and student self-organization. It now consolidates work on gender and sexuality, and in feminist, gay and lesbian, and queer studies.
NEWS
NEH Award goes to Sonali Thakkar
We are happy to announce that Sonali Thakkar, CSGS Faculty Affiliate, has been awarded a National Endowment for the Humanities Fellowship for University Teachers to support her project "Race, Religion, and Holocaust Memory in the Literature of Postwar European Diasporic Communities." Sonali is an Assistant Professor of English Language and Literature who trained as a comparatist and whose work focuses on global Anglophone and postcolonial literatures as well as contemporary transnational culture. She has worked closely with the center for the past few years, serving as part of the faculty group that created the two-quarter core sequence "Gender and Sexuality in World Civilizations" and as one of the two instructors in the inaugural quarter of this sequence. You can read more about Sonali Thakkar at http://english.uchicago.edu/faculty/thakkar.
Gender and Sexuality Studies is now part of the Core curriculum in the College!
UChicago students now have the opportunity to learn about the fundamental importance of gender and sexuality as analytic categories as part of their general education requirement teaching the introduction to the tools of inquiry used in every discipline. Read more about Gender and Sexuality in World Civilizations here.
Congratulations to Monica Mercado!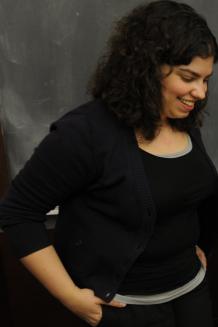 We are delighted to spread the news that Monica Mercado has been appointed the Director of the The Albert M. Greenfield Digital Center for the History of Women's Education at Bryn Mawr College. Monica, who will complete her PhD in History this spring, has contributed to CSGS in a variety of ways. She is currently the co-coordinator of the Closeted/Out in the Quadrangles Project at the Center, and she has held a CSGS dissertation fellowship as well as serving as a preceptor and frequent teacher of free-standing courses, including ""Sex and Sexualities in Modern US History" and "Queer on the Quads: Uncovering LGBTQ History at the University of Chicago." To read more about Monica's work and new position, click here!
...and to Emily Swafford!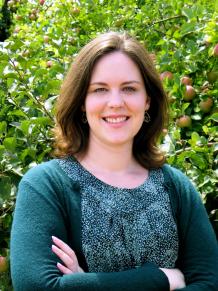 We are also delighted to pass on the news that, beginning in April, Emily Swafford will be joining the GHI as a Postdoctoral Research Fellow to work on her second project, Ambassadors in Pigtails: U.S. Girl Scouts and the Transnational Cold War, 1950-1989. This project examines the entangled narratives of these two sometimes opposed organizations—a national military dedicated to defending America's interests and a youth movement that pitched peaceful internationalism—even while both were simultaneously engaged in producing and reproducing an American "way of life" on foreign soil. Emily's first project, her doctoral dissertation in the History Department, also an examination of American-German relations, is titled "Democracy's Proving Ground: U.S. Military Families in West Germany Between World War II and Vietnam." Emily has been invaluable to CSGS this year, holding a residential fellowship and serving as a teaching intern in the autumn civilization sequence and as a co-teacher for "Problems in the Study of Sexuality" in winter. We are sorry to lose Emily before the end of the academic year but very happy about her new position!
Congratulations to Kathy Forde!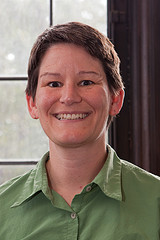 Please join us in congratulating Kathy Forde, Assistant Dean of Students in the College and liaison to the Gender and Sexuality Studies program, who is the recipient of a University of Chicago 2014 Diversity Leadership Award for her work creating the College's LGBTQ Mentoring Program, helping establish the 5710 diversity center, and in general contributing to the quality of life for students at the university. See more here.
Visit us!
Visit the Center for the Study of Gender and Sexuality and the Center for the Study of Race, Politics, and Culture in our newly renovated space. See our calendar for upcoming events, or just stop by. All are welcome!